According to SEMI's data, by 2019, installed capacity will reach close to 5.38 million wpm, almost as high as capacity in 2006.
From 2015 to 2020, 200mm facilities are forecast to add 618,000 wpm net capacity. This increase is a combination of fabs adding capacity and fabs losing capacity.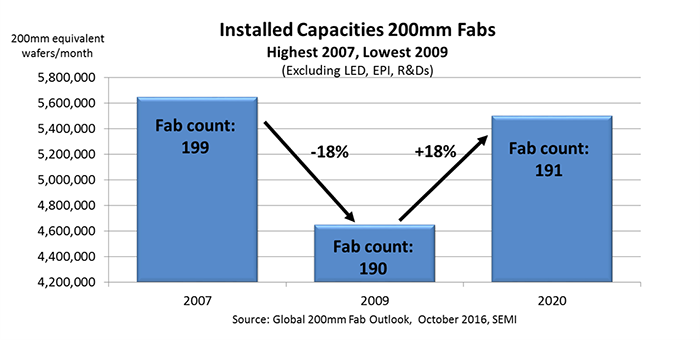 Two applications account for the growing demand for 200mm: mobile devices and IoT. Rising fab capacity from 2015 to 2020 will be driven by MEMS devices, Power, Foundry and Analogue.
By region, the greatest increases in capacity are expected to be in China, Southeast Asia, Americas, and Taiwan. Another trend is also observed: 200mm fabs are increasing the capacity to provide process capability below 120nm.
Higher capacity does not mean more fabs, but fewer, larger fabs. In fact, the number of fabs in 2020 is almost the same as the count seen in 2009. So 2020 capacity heads toward industry highs while in comparison 2009 had the lowest levels off the 2007 peak.