New IPhone May Buoy Taiwan Exports After July's Increase
A jump in orders for semiconductors ahead of the release of Apple Inc.'s newest iPhones helped Taiwan post the first gain in exports in a year-and-a-half and may boost growth in the trade-dependent economy.
2016-08-12
Exports in July climbed 1.2 percent from a year earlier, the Ministry of Finance said in Taipei late Monday, with electronic goods shipped overseas rising 5.7 percent. A low base last July helped the overall increase, the ministry said in a statement.
Exports account for nearly two-thirds of Taiwan's gross domestic product, and a recovery in shipments would give a substantial boost to economic growth. The island reversed three quarters of GDP shrinkage in the second quarter, posting a 0.69 percentgrowth rate. The statistics bureau in May forecast growth of 1.06 percent for the full year.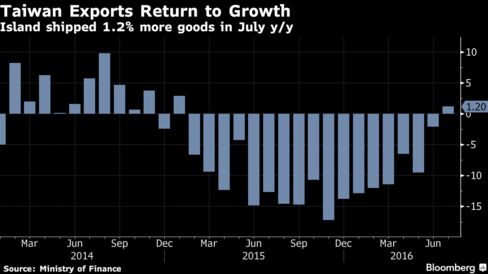 Bank of America Merrill Lynch economists Xiaojia Zhi, Helen Qiao and Sylvia Sheng expect export growth and favorable base effects to support year-on-year GDP growth in the second half of the year, according to their research note published Monday after the July data.
The next few months mark the peak season for semiconductors and telecommunications products, according to Anita Hsu, an economist at Masterlink Securities Investment Advisory in Taipei. Hsu expects exports to grow as much as 5 percent in the third quarter, since the new iPhone's release boosts shipments.
Apple could introduce new models to follow the 6S and 6S Plus as early as next month, with more advanced photography capabilities and upgraded hardware, according to people familiar with the matter. The Cupertino, California-based company's biggest Taiwanese suppliers include the world's biggest contract manufacturer of microchips, Taiwan Semiconductor Manufacturing Co. and iPhone assembler Hon Hai Precision Industries Co., better known as Foxconn.
"We expect the outperformance in electronics to sustain in the third quarter as component suppliers ramp up production ahead of Apple's iPhone 7 launch," Angela Hsieh, an economist at Barclays Plc, said Tuesday.
The benchmark Taiex stock gained 0.1 percent at the market close, while the local dollar rose 0.2 percent to NT$31.437 per U.S. dollar. The Taiwan dollar has risen about 5 percent against the greenback so far this year, compared with the Chinese yuan's 2.5 percent drop.
source: Bloomberg